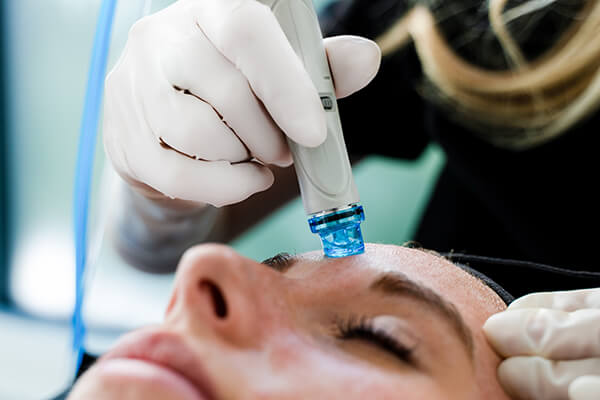 WHEN SHOULD I GET A HYDRAFACIAL?
A HydraFacial is a great option for anyone desiring smoother, deeply hydrated skin with a quick turnaround. It is generally recommended to receive a Hydrafacial once a month. As there is no downtime associated with the treatment, it can be administered anytime during the year.
WHAT IS A HYDRAFACIAL?
An important step in any effective skincare treatment involves resurfacing the top layer of skin. One commonly known resurfacing procedure, microdermabrasion, uses micro-crystals to mechanically exfoliate the skin. While this method is very effective, it can also be irritating for acne-prone or sensitive skin types.
To address these concerns, HydraFacial was born, using water as the exfoliating medium. This multi-step treatment uses a patented device to cleanse, exfoliate, and extract dead skin cells while bathing the skin in serums packed with rich hydrating ingredients, antioxidants, and peptides. In addition to this, you can work with your skincare professional to further customize your HydraFacial by incorporating add-ons or boosters targeting your specific skin concerns.
With high concentrations of potent ingredients, professional products can also be incorporated to complement and enhance the HydraFacial experience. The dermatologist-tested SkinCeuticals + HydraFacial Integrated Treatment amplifies the effects of the procedure by infusing the benefits of SkinCeuticals vitamin C serums, corrective solutions, and broad spectrum sunscreens. The treatment delivers additional hydration with minimized visible redness while providing improvement in the appearance of skin firmness, texture, and radiance.
HOW DOES A HYDRAFACIAL WORK?
The HydraFacial device uses three actions that contribute to the resurfacing of the skin; physical exfoliation from water pressure and a textured tip, chemical exfoliation from acids such as glycolic and salicylic, and suction to lift dead skin cells off the surface.
A basic treatment starts with a water-based solution being blasted onto the skin to break up the topmost layer of dead skin cells. Using the spiral suction tip of the HydraFacial device, the dead skin cells and surface debris are lifted away, providing a gentler method of extraction. Next, a chemical peel solution is delivered in the same way, increasing the depth of exfoliation. The final steps involve the same pressurized delivery of treatment serums customized to the needs of the skin. Because all steps are delivered in a hydrating, water-based solution, the HydraFacial delivers an impressive amount of plumping hydration to the skin when compared to a more traditional microdermabrasion treatment.
Some HydraFacial treatments go a step further with the addition of aesthetic modalities such as microcurrent or LED light therapy.